93 billion
cubic metres of water used in textile production each year
1.7 billion
tonnes of greenhouse gas emissions emitted by 2015 textile production
92 million
tonnes of textiles waste is produced every year
15%
of cloth that is intended for clothing is wasted during the cutting process
Our Sustainability Pledges
Sustainability is in the DNA of our brand. We believe that it's not just about creating beautiful clothing but also making sure that the process and the products are ethical, environmentally friendly, and have a positive impact on the world.

We view waste as a core challenge to society and we want to do our part to make a circular economy. Through our reversible designs, a single outfit can be worn in multiple ways reducing clothing overconsumption.

Our commitment to quality is non-negotiable, and we believe that if we are not providing our customers with the best quality fabric, craftsmanship, and experience, then we have not done our job.

At Isabel Manns, we believe that we can make a difference, and we invite you to join us on our journey towards a more sustainable, circular future.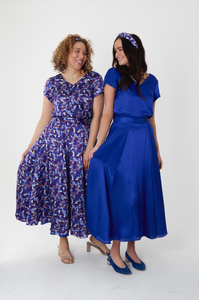 Reversibility for Sustainability
Sustainability is at the core of our brand, as we do not believe in "throw away fashion." Our reversible items mean that you buy less and contribute less to landfill.
Our reversible clothing offers you two outfits in one (or if you buy a matching skirt and top or trousers you will have four outfits in one). This gives you versatility as you can wear your item from the day into the evening or to multiple events, simply by reversing the item and styling it differently.
We like to offer one side in a print and the reverse side in a plain colour so that you always have a classic plain option.
Minimum Waste

We work with sustainably conscious Ateliers in London who ensure our fabric is cut economically to minimise waste. The prints and pattern pieces are also designed in such a way that the fabric waste is kept to a minimum (We use over 96% of our fabric).
Any fabric that is left over from producing our clothes is saved and used to make our accessories. This is why scarfs often come in different sizes as it depends what size fabric is leftover. 
As we believe in "slow fashion" we only create 1 collection per year (rather than the typical 4) and then we add on extra items throughout the year when we see necessary.
We produce our clothing in small production runs and often our items are made-to-order so that we are never over produce and cause waste.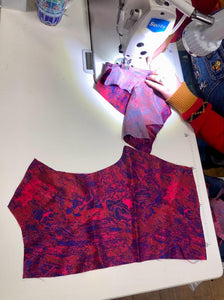 Made in England
We proudly support British industry and manufacturing. All of our clothing is produced in London and we've built up strong, personal relationships with our Ateliers who contribute to the quality delivery of our collections.
We strive to be ethically conscious in every step of the process. From knowing our entire supply chain by basing it in the U.K, which means an ability to monitor working conditions and reduce our carbon footprint.
Sustainable Materials
We're constantly searching for fabrics that are derived from eco-friendly sources to help minimise our impact on the environment. Whilst this brings challenges on costs and production, we're committed to finding the right solution.
Silk satin is a beautiful fibre and with the correct care it can last you for decades. It is biodegradable and uses less water, chemicals and energy to produce than many other fibres.
Our new favourite fabric is a silk bamboo. It has the softness of silk combined with the bamboo quality, which is a great alternative to cotton. It is easy wearing, good all year round, machine washable and hardly creases.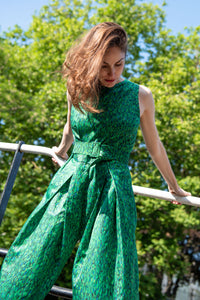 Seasonless Collections
We create high quality, timeless designs that work from season to season. Each collection builds complimentary pieces from previous collections. We're creating continuous fashion, not fast fashion styles.
We don't discontinue fabrics or styles so that customers can come back to us in the future and have something else made to match an item they have previously bought from us.
We are always more than happy to fix or alter garments from our brand to give them a new life.


Made To Order
Checkbox *
We are pleased to offer a "made to order" service so that your item will be made especially for you. If your size is labelled as "made to order" this means that your item is not in stock but can be made in 1-3 weeks for you. Please note that you CAN return or exchange the item as long as no custom adjustments or hem lengths have been made.

x
Hem Adjustments
If you would like to have a hem adjustment then please follow the instructions below. Alternatively please contact us directly and we can assist.
Please note that there will be an extra cost of £45 for this service and no returns/exchanges can be made once an item has been adjusted.
Choose the Style
Please write your measurement in cm from the shoulder, straight down over bust to where you would like the hem to end.
Please consider your shoe choice
Please write your measurement in cm from your waist along your outer leg seam to where you would like the hem to end.
Please consider your shoe choice