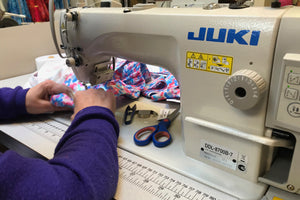 Our Partners
We are proud to work with independent Ateliers across London who are dedicated in supporting our brand being high quality, sustainable and British made.
Isabel wanted to work with partners that:

- Care about emerging brands

- Do not have large minimum order contracts

- Are sustainably conscious

- Treat their staff ethically 

- Have high quality sewing and construction knowledge 

- Are looking for long-term partnership
This was a lot harder than Isabel expected as many factories have higher minimum orders than she wanted or did not understand how certain items could be manufactured to be reversible. Isabel knew it was possible though, as the brand started by her sewing the reversible items herself.
Although it took a long time to find the right partners, who would take a chance on her, the Ateliers she now works with have been with her since the beginning.
We visit the Ateliers on a regular basis, and we pride ourselves in knowing everyone who is working on our clothing.
We try to be as transparent as we can about our supply chain so if you would like to know more about how we work then please do not hesitate to contact us!